Table of Contents
So, you're planning a golf day with your buddies and you're getting ready by packing your golf bag for a day on the greens. But, when you look outside the window, you can't help but notice dark storm clouds looming in the sky.
Most of us won't let a little bit of rain come between us and the sport we love. However, there is something to be said about keeping warm and dry when you're playing in wet conditions. Not only can rain lead to waterlogged shoes and damp clothes, but it can also affect our performance when we feel uncomfortably wet.
You don't have to let the weather rain on your parade, though! Instead, you can head out to the country club ready for action with a good amount of rain gear to protect you from even the heaviest downpours.
With Glenmuir, you can step out onto the greens with confidence and keep yourself warm and dry throughout your golf day. In this handy guide, we're going to help you build the perfect outfit for blocking the wind, facing the rain, and beating out the weather just as you beat out your competition.
You know what they say - ladies first! The type of golfing attire you wear on the golf course can make a huge difference to your game and overall performance. After all, you don't want to overdo the layers (since you may struggle to swing efficiently or move around comfortably), but you also want to protect yourself from being drenched from head to toe.
Luckily, Glenmuir has a range of Ladies' waterproofs and wet weather gear that will help to keep you comfortable and dry when you're playing golf in the rain.
Shirts
One of the most important things to do when you're golfing in the rain is to layer up! Instead of adding unnecessary bulk with thick layers, it may be best to have several thinner layers. Not only will this leave you free to move around without affecting your swing, but it will help to trap your body heat within these layers to keep you feeling cosy all day long.
You'll want to start off with a good base layer (perhaps a thermal base layer) to keep your core warm. Long-sleeve shirts are a great choice since they hug your body without being too restrictive. They're also thin enough to build on without bundling up like a snowman!
Ideally, you'll want to pick a long-sleeved compression golf shirt that also has moisture-wicking properties. As you play golf, your body will naturally begin to heat up.
As a response to all of the heat trapped against your body and the heat that you're generating as you play, your body will begin to sweat.
Sweat can be really uncomfortable to deal with, so you'll want to pick a shirt with good breathability and one that will draw any moisture away from your body. This will help to keep you feeling comfy and dry on the course without sacrificing any of the warmth that an undershirt can provide.
Bottoms
Ladies, it's time to leave the golf skirts and shorts at home! When you're dealing with wet grass and muddy soil, there's a high chance that it's not only your shoes that will be covered in mud. Your legs are sure to be covered, too. Not to mention they'll be slick with rain, which isn't ideal when you're walking around the golf course.
Instead, you'll want to opt for a pair of trousers that are lightweight enough to allow for freedom of movement but still insulated enough to keep you warm. You'll also want to pick breathable fabrics so that your body heat doesn't create too much moisture.
Luckily, Glenmuir has the solution with our Ladies' Heavy Rain Trousers. These pants are breathable, waterproof, and are designed to move with your body rather than impede your performance. From light drizzles to heavier downpours, you're sure to stay dry and comfortable.
If you're worried about feeling the winter chill in a lightweight pair of trousers, a pair of khakis or tailored pants are an okay choice here.
Still, you may still find that your trousers cling to you once you get wet. This can cause chafing and discomfort that can ruin your game. In fact, this is true for any pair of trousers that could potentially cling to you and seep through once they get wet.
For your go-to winter pair of trousers, Glenmuir's Ladies' Winter Water Repellent Trousers are the perfect pick for warmth and staying dry.
Outerwear
The outerwear you pick will largely depend on the weather. For example, a lighter rain jacket is great for protecting yourself against wind or a light drizzle, but it may not be the best pick for heavier rain. Light showers are complemented with lighter outerwear, like Glenmuir's Ladies' Light Rain Water Repellent Golf Jacket.
Of course, there's also a difference between summer rain and winter rain. While summer rain can be just as heavy as the downpours we get in winter, it's much more refreshing and comes with much less of a chill in the air.
For this reason, a big, puffy winter rain jacket isn't going to do much for you on the golf course (except restrict your movement). You'll more than likely need a lightweight jacket when you're playing golf in the summer, much like this Ladies' Summer Heavy Rain Jacket.
This jacket is also the best waterproof golf jacket for keeping in your bag - even if the weather forecast predicts sunshine all day. It's the perfect emergency jacket and can act as a windbreaker when the wind hits on summer evenings.
In the winter, you can swap it out for the Ladies' Winter Heavy Rain Jacket for a warmer choice.
Okay, gents, now it's your turn. Starting with the basics, you'll need to build a similar outfit to the ladies. It's important to remember to adhere to the rules of the club you're playing at. Most courses only allow for certain attire, so it's best to brush up on the regulations before you step out onto the greens.
For everything Glenmuir has to offer, be sure to check out all of the men's waterproof golfing gear you'll ever need to beat the elements and tee up like a champ.
Shirts
Some of the best rain gear you can invest in starts with what's underneath your waterproof jacket. A long-sleeve moisture-wicking compression golf shirt is a great choice for layering to keep you warm without overheating. Just make sure that it's a breathable material to keep any build-up of moisture away from your body.
Over your compression shirt, you can opt for several different shirt options. Just remember that short-sleeved shirts should always be collared, which is usually outlined in the dress code for the course. Short-sleeved shirts are great for the summertime and can help to avoid restricting your golf swing.
Bottoms
Although rain pants may seem like the most obvious choice for protecting your golf attire, that's not necessarily true! Rain pants are great for slipping over a pair of shorts if you suspect that there may be rain but don't expect it to be that cold. They're also great for summer showers to protect your legs from wet greens and sand that may dirty your legs.
However, slipping a pair of rain pants over your regular golf trousers is not always the most comfortable feeling in the world. So, if you don't want to wear golfing pants under your rain pants, then you may want to try to pick out a pair of trousers that are designed for wet conditions.
For a lightweight option that will keep you dry in summer showers, Glenmuir's Summer Lightweight Water Repellent Trousers are a great choice. They're stylish, soft, and breathable and are sure to keep you dry in summer rain.
When you golf in the rain, it's not uncommon to find yourself caught in wet conditions with the addition of cold winds and muddy greens. In this case, Men's Thermal Winter trousers may be a better pick. These trousers are thicker and warmer but are still just as breathable and stylish as summer trousers.
What happens when those dark, looming clouds are swirling overhead and an absolute downpour of rain is looming? In this case, you'll be better off sticking to Glenmuir's Men's Heavy Rain Trousers. Although they're lightweight, they're incredibly warm and will keep you dry and comfortable in wet weather.
Outerwear
A little bit of rain has never stopped any avid golfer from heading to the driving range or spending a day on the golf course. As it shouldn't! Especially not if you have some of the best waterproof golf jackets at your disposal, anyway. But, what is the best rain jacket for golfing in wet conditions? Well, that really depends on the amount of rain you're experiencing and the season.
In summer, you won't need an entire rain suit to protect yourself against a few light showers. Rather, you'll need a lightweight waterproof jacket that is breathable enough to stop you from overheating, but resistant enough to stop your golf shirt from getting wet.
The best rain jacket for summer showers is our Light Rain Men's Jacket. It's also stretchy enough that it won't affect your golf swing, making it the best rain gear to keep in your bag (rain or shine).
However, when you run into heavy rain, staying dry becomes more of a challenge. In this case, a lightweight waterproof jacket just won't cut it. That's where the Men's Winter Heavy Rain Jacket and the Men's Summer Heavy Rain Jacket come in.
Both of these jackets are designed to shield you when it's bucketing rain. Of course, the major difference between the two is the heat-holding ability. The winter jacket is made for warmth, while the summer jacket is light enough to keep you cool and dry when unexpected rain hits.
Besides having rain gear like a rain jacket or water-repellent trousers, your accessories are just as important for ensuring you have a good experience when you're playing golf in the rain. And, even if you don't have a need for all of these accessories all the time, you may just want to keep them in your golf bag (just in case).
It's always better to be over-prepared than be caught in the rain with no way of keeping yourself dry. With that said, we've put together some essential golf accessories for men and women who find themselves on the course come rain or shine.
Golf shoes
Let's be honest - is there anything worse than having wet feet when you're playing golf? Between wet grass grazing at your ankles and soggy, wet conditions on the green that squelches beneath your feet, one of the worst parts of playing golf in the rain is dealing with damp golf shoes.
For this reason, a high-quality pair of waterproof golf shoes can go a long way. Not only will they stop water from seeping into your shoes and wetting your socks, but they usually also come with a good enough grip for elements like wet sand and mud.
This means you won't be slipping and sliding around the course and you can focus on what's most important: Perfecting your golf swing and beating your competition.
Don't forget about your socks, either. Although waterproof golf shoes will help to keep your feet warm and dry, it's not a guarantee that you won't find yourself with your foot in a puddle. Ideally, you'll always want to carry an extra pair of socks with you. You should store them in your golf bag in a tightly sealed, waterproof packet (even if you have a waterproof bag).
Hats
When it comes to hats, you have a few options to choose from when you're playing golf in the rain.
Firstly, you can always go for the tried-and-true rain hood, which will ensure that your head stays dry in both light showers and heavier rain.
You can also wear a shirt with a built-in rain hood underneath your waterproof jacket to avoid having an extra accessory with you, although these are generally less effective since they don't have the peak in the front. The peak is what filters the rain away from your face, making it less likely that it will impair your vision.
If there's a light drizzle or it's overcast and windy, a beanie may come in handy, too. Beanies can help to keep your ears warm and your head dry, but only in light rain. Since most beanies aren't made with waterproof materials, they aren't the best pick when it's raining cats and dogs!
It's also important to remember that your face is still exposed when you're wearing a beanie, which means that you may have to deal with rain in your face and your eyes, which can be extremely distracting when it's your turn to play.
Lastly, some players still opt for the classic peaked cap, which isn't a bad choice. Just be sure to pick one that is made from waterproof or water-resistant materials to keep your head nice and dry.
Sunglasses
You may be thinking 'Do I really need to wear glasses when I'm playing golf in the rain?'. The answer is yes! When you play golf, you need to keep yourself free from distractions and keep your eye on the golf ball.
In overcast conditions, you may still find that you battle with glare when the sun peeks through from behind the clouds. This glare can cause you to lose focus or throw your aim or even your swing off. So, if you want to ensure that you're going to play your best, you'll want to protect your eyes.
You should always wear a rain hood or a hat if you're wearing glasses, though, since you'll want to keep the glasses dry. If your glasses are too wet, you'll need to take them off to dry them, which can take up valuable time.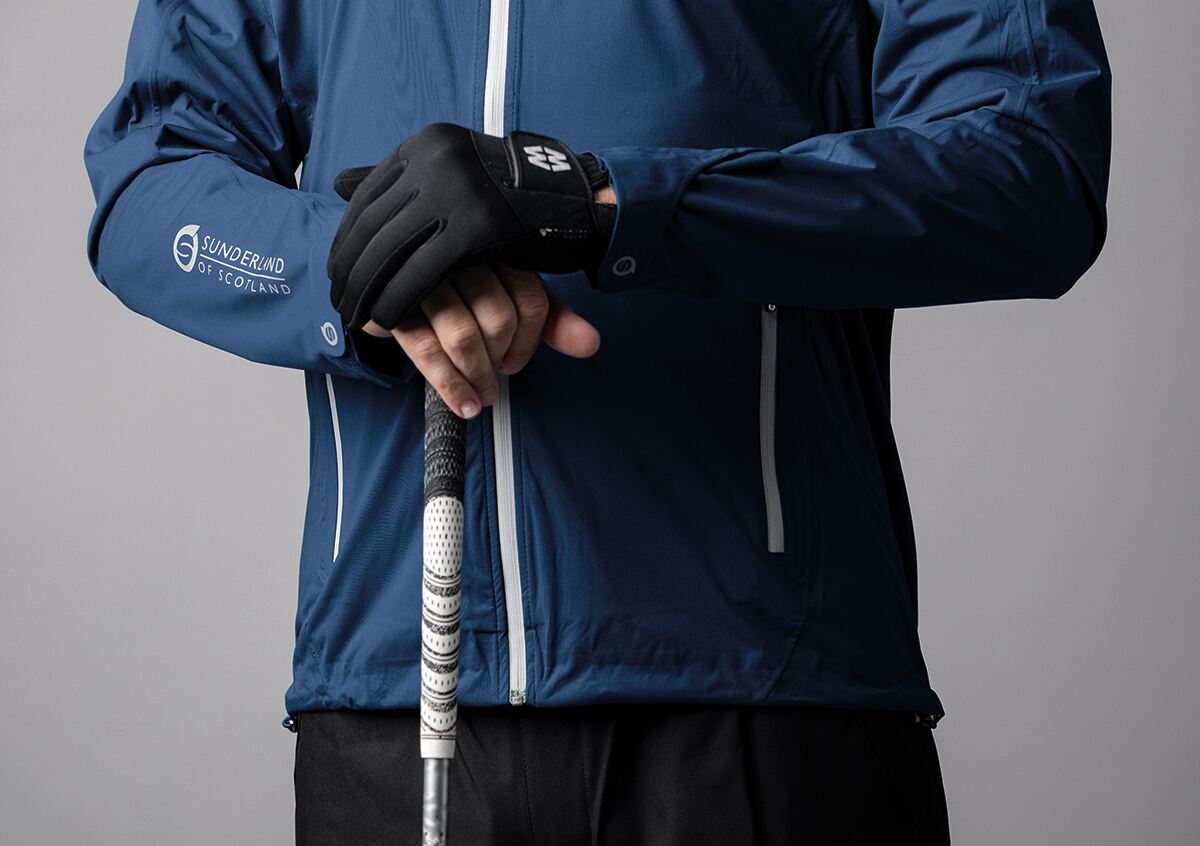 Rain gloves
When you're playing golf in the rain, wet-weather gloves are essential for maintaining your grip on your golf club. Rain gloves are also great at keeping your hands warm when there's a nip in the air.
Generally, wet-weather gloves are designed to work well when they're wet. So, unless it's raining, it's best to keep them tucked away in your golf bag. When they do get wet, they are less rigid and help to hold onto your clubs so that you don't end up losing them on your swings.
Ideally, you should always carry two pairs of rain gloves with you. You never know when you may need them! For example, Glenmuir's Unisex Wet Weather Summer Rain Golf Gloves will make it feel like you're cheating - they're that good. You can wear one of these gloves in light to moderate rain, and add the second glove when the rain really starts to pour. You'll feel just like PGA Tour player Aaron Rai!
In the winter, when the temperatures start to cool, having warm hands is critical for maintaining good contact with your golf club. In this case, having lined rain gloves can come in handy. Just be sure to keep your hands in your pockets when you're not playing! Your pockets may be a little soggy, but it will definitely help to keep your hands warm.
A great example of the best type of rain gloves you can use in cooler weather is the Winter Rain Golf Glove from MacWet. But be warned! Once you try these, you won't want to wear any other rain gloves again.
Golf towel
It shouldn't come as a surprise that having a dry towel with you can help keep your equipment (and yourself) dry while you play golf.
In the same way that golf towels are used to dry you off from sweat in the summer, your towel can also help to dry off your face in rainy weather. However, they have a double use in the wintertime - you can use a dry towel to wipe off your golf clubs between shots to make it easier to grip them too.
But here's the catch: Golf towels need to stay dry in order to be of any use to you! So, when you're packing towels into your golf bag, be sure to pack them in a waterproof bag to ensure that they're
not getting damp. You should also carry more than one (if possible) so that if one gets too wet after drying things off, you can just replace it with the other towel.
If you're carrying an umbrella with you, you can use the hub of the umbrella to hang your towel off of as well. By doing this, you can have your towel easily accessible to you without having to rummage through your bag every time you want to use it. Plus, it will be kept dry by the umbrella.
Sunscreen
No matter whether you're playing in super sunny or overcast weather, sunscreen is an essential item to have in your golf bag. In the summer rain and light drizzles, you'll want to wear sunscreen to protect yourself against any UV rays that may be penetrating the clouds.
Although there's a myth that you don't have to wear sunscreen when there's no sun, spending more than a few hours outdoors on the golf course can take its toll on your skin. Plus, the sun may come out from behind the clouds when you least expect it, so even if you aren't putting sunscreen on before you head out onto the greens, you'll want to have it close on hand for unexpected weather changes.
Since your skin does need moisture to prevent windburn in cold weather, you can also use a moisturiser with an added SPF to kill two birds with one stone. Don't forget your lips, either! Whether you're worried about sun or windburn, having good lip protection is essential. A beeswax-base lip balm may be a good idea for long hours in the sun.
Umbrella
Last but not least, a high-quality umbrella is a must-have when you're playing golf in the rain. Be sure to invest in a sturdy golf umbrella that has a big canopy and is double-lined to help with airflow. Without the added airflow, you may find yourself battling with the wind as it tries to turn your umbrella inside out.
You can also use an umbrella holder and attach it to your golf bag if you want to keep all of your golf gear dry.
Of course, you won't necessarily need an umbrella if the weather forecast only predicts a light drizzle. But, if the rain is coming down harder than your swing, then it may be in your best interest to grab a brolly!
Every course has a dress code that they ask players to stick to. So, even though we've put together a list of the best things to wear, it's always best to check the rules and regulations before you put your golfing outfit together. Luckily, Glenmuir's selection of attire is fantastic for any dress code and should adhere to any rules the course has.
Typical golf dress code rules
No matter what country club or course you're heading to, you're going to want to pay attention to the standard rules that most clubs follow. These include:
Collared shirts: Collared shirts are staples in golf attire, with polo shirts being the most common choice. Usually, T-shirts and tank tops aren't allowed.

Slacks or golf shorts: Properly tailored slacks, khakis, and trousers are allowed on most courses. Similarly, shorts are also allowed as long as they are an appropriate length (around knee length) and are made from appropriate material.

Skirts and skorts: Women also have the option of wearing skirts or skorts (a combination of a skirt and shorts) when they're golfing. However, there are also length guidelines and material preferences for these skirts.

Shoes: Golf shoes with soft spikes or that are spikeless are typically allowed on most courses. It may be important to check for the specific rules on these, though, as some events and competitions do not allow any golf shoes with spikes.
What you should definitely not wear golfing
When it's raining or cold, it can be tempting to throw on a cosy jumper and a pair of woolly socks when you're out and about. But that isn't always the most appropriate choice for golf.
Here are some absolute no-nos for golfing attire (no matter the weather):
No denim should be worn on the course. Jeans may be your go-to choice in cooler temperatures, but they aren't usually allowed for golfing.

Sweatpants or athletic pants of any kind aren't permitted - not even in the rain.

Non-collared shirts aren't allowed for men or women. The only exception is when you're wearing a shirt as a thermal layer underneath a collared shirt.

Bright, distracting colours aren't necessarily prohibited. Still, they can be distracting for other players.

If you're wearing a hat, don't turn it backwards. If your head is getting hot or you no longer want to wear your hat, it's better to take it off than turn it around.
Staying dry while you're on the course is important for your overall comfort and performance when you're playing golf. When you're soaked through, you may not necessarily get your best golf shots in, which will drastically affect your score. And, if we're being honest, spending a good couple of hours on the course when you're in damp clothes can completely ruin your golf day.
With our top tips on how to stay dry on the course, you can (hopefully) avoid all of the cold and wet unpleasantness and focus on improving your game.
Always invest in quality golfing rain gear: The easiest way to stay dry is to make sure that you have high-quality rain gear like a good rain jacket and waterproof shoes. You'll also want to pay attention to your accessories since they can make a big difference to your performance and your comfort level. Luckily, Glenmuir has got you covered (literally!) in any type of weather condition.

Layer strategically: Ideally, you'll want to have a moisture-wicking layer at the very base of your outfit. This will help to draw any moisture away from your body to keep you feeling dry and comfortable. Then, add some insulating layers for warmth if you need to and top it all off with a waterproof jacket.

Use waterproof golf accessories: Make sure that all of your accessories are helping to keep you dry. For example, rain gloves and a waterproof hat can go a long way when the rain starts to pour down. You may also want to make sure that any additional accessories like your watch are waterproof. And, if it's not, it may be a good idea to leave it at home.

Choose the right time to tee off: If possible, try to start your game in the drier part of the day. Avoid teeing off in the early morning or evening when there may be more dew on the course as well.

Be mindful of course etiquette: If there is heavy rain, try to avoid walking in wet areas. If you do, make sure to take the designated paths to avoid damaging the course. Not only is this good golf etiquette, but it can help to keep you dry.

Carry extra clothes: Sometimes we can't help but get a little bit wet - even when we've protected ourselves with a rain jacket and waterproof shoes. Rain can also be unpredictable sometimes. If the rain picks up when it was only supposed to be a light shower and you're only wearing a lightweight jacket, you're going to want to change out of your damp clothes. An extra change of clothes is key!

Stay in the golf cart: As long as carts are allowed on the course, you should try to make use of them in the rain! If you're not actively playing, take a seat inside the cart and try to stay dry.

Never forget to check the weather forecast: Of course, part of preparing for a day of golf is checking the weather. If the temperatures are cool, it may be best to take some spare rain gear with you, just in case there's some unexpected rain. Remember, you should always take the forecast with a pinch of salt and carry a lightweight rain jacket with you - even when there's no predicted rainfall.
Are rain trousers necessary for golf?
Rain trousers aren't completely necessary for golfing in wet conditions, but they can be really beneficial if you choose to use them. Not only can they help you stay dry and comfortable, but they can also provide you with an additional barrier against the wind in cooler weather. They help to protect your clothing from being soaked through, which means you can enjoy an uninterrupted game.
It's important to check the dress code for some golf courses, though. In some cases, certain courses have a weather-dependent dress code that may call for players to wear certain rain gear like rain trousers. You don't want to be turned away before you're even able to get out onto the fairways, so be sure to check the rules and regulations before you head out.
Do you wear golf rain trousers over your trousers?
Yes, golf rain trousers are designed to be worn over your normal trousers or shorts. They are used as an outer layer to protect you against wet weather and keep your golfing attire dry. Some players prefer to wear performance golf shorts under their rain trousers, as they protect you from any cold winds or rain on the course but may get a little stuffy if the sun comes out during your golf game.
By wearing shorts, you can ensure that you stay warm and dry when the rain is pouring, but you can also stay cool if the weather conditions change suddenly. You also won't need to change out of your rain pants if the weather warms up, ensuring you don't disrupt your game.
Can I still play golf if the weather turns stormy during a round?
Like most golfers, you probably aren't scared of a little rain and wind. However, safety should always be your top priority when you're on the golf course.
If the weather conditions are severe or there is any lightning, you may want to leave the course and wait it out until the weather improves. If it doesn't, it may be best to call off the game rather than risk injury. Most golf courses have strict rules about playing golf in adverse weather, too, so be sure to familiarise yourself with them before you use the golf course.
Are there any specific clothing etiquettes to follow for rainy rounds?
Although there may not be strict or specific rules to follow when it's raining, it's just good golf etiquette to wear appropriate rain gear in wet weather. This will help to prevent you from accidentally tracking mud and water onto the golf course. Remember to bring an extra pair of shoes along with you, too, so that you can change into them after your golf game.
What should I do to ensure my equipment stays dry in wet conditions?
If you don't want to dry off your golf club before every swing, then you may want to invest in a waterproof golf bag to keep your equipment dry in rainy weather. Otherwise, you could always use a towel to dry your golf club off if you don't mind the extra effort.
A golf bag rain hood or waterproof golf bag cover may also come in handy if you can't get your hands on a waterproof golf bag but still want to protect your golf gear from wet conditions.
Can I wear my regular golf clothes in the rain?
Sometimes the weather can be pretty unpredictable and you may find yourself caught in the rain unexpectedly. While you can wear your regular golf attire when it's raining, it's always a good idea to carry a lightweight waterproof golf jacket - even when the sun is shining. You never know when it might come in handy!
Some golf courses also require you to wear specific golfing clothing in certain weather conditions, so be sure to read up about the rules and regulations before your visit. You should also make a habit of checking the weather forecast before you head out to play golf, as it can save you from a wet and unpleasant golfing experience.
Should I carry an umbrella while golfing in the rain?
Carrying an umbrella in wet weather can be great for shielding yourself against the wind and rain. However, you can't exactly hold an umbrella when it's your turn to swing. So, while an umbrella is helpful when you're walking around the greens, you're still going to want to take a rain or waterproof jacket and other rain gear with you for hands-free weather protection.
Scared of playing golf in the rain? Well, now you don't have to be! This comprehensive guide on what to wear for golf in the rain will help you stay protected from the elements come hell or high water (literally).
With Glenmuir's and Sunderland's range of waterproof golf attire, you won't have to worry when the weather forecast predicts a little bit of rain. Instead, you can tackle whatever the weather throws at you and come out on top - both in your wardrobe and in your performance!